We have recently set up a division to conduct food human trials by people with clinical development experience under the GCP for Drug and Food Clinical Research.
The division complies with the Guidelines on Medical Research Ethics involving Human beings (Comprehensive Guidelines) and can also responds to the Clinical Research Law, which took effect in April 2018. It also provides advisory services for the application of specific health products, the application of functional foods, and the acquisition of efficacy and safety certificates for development and research.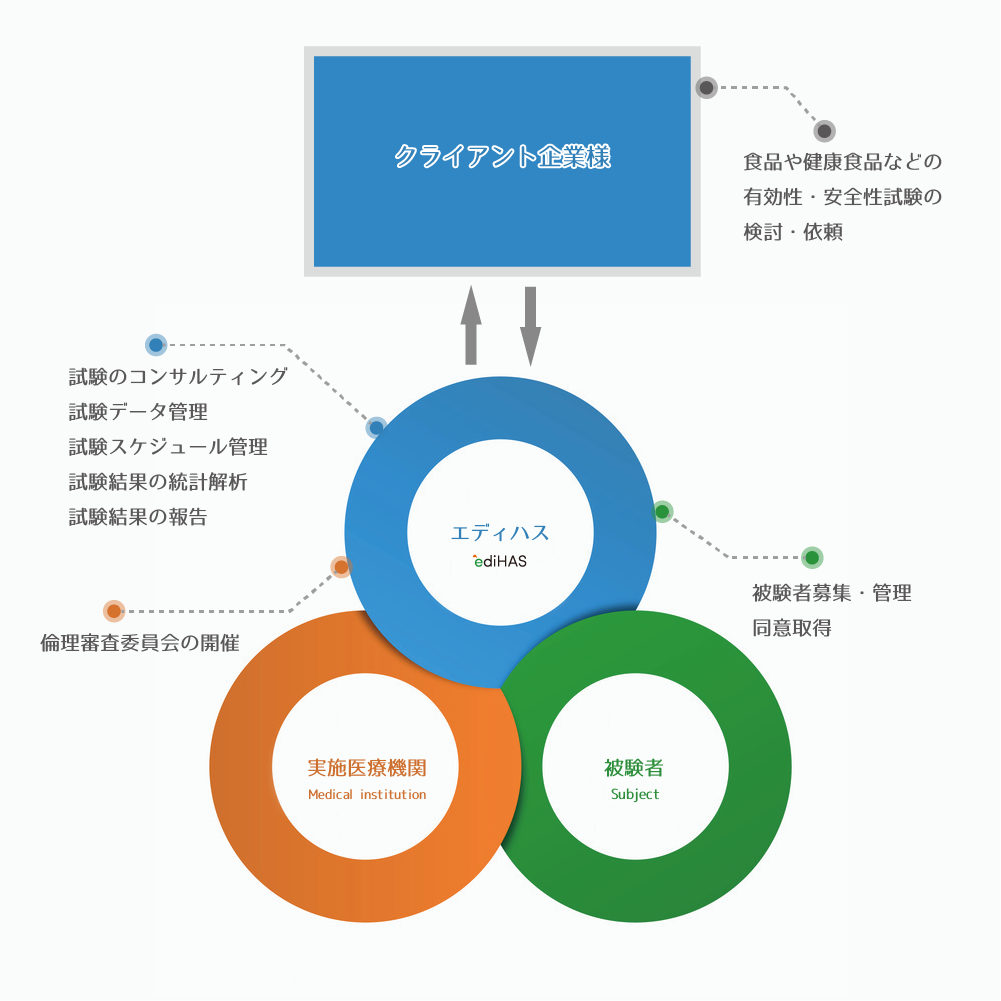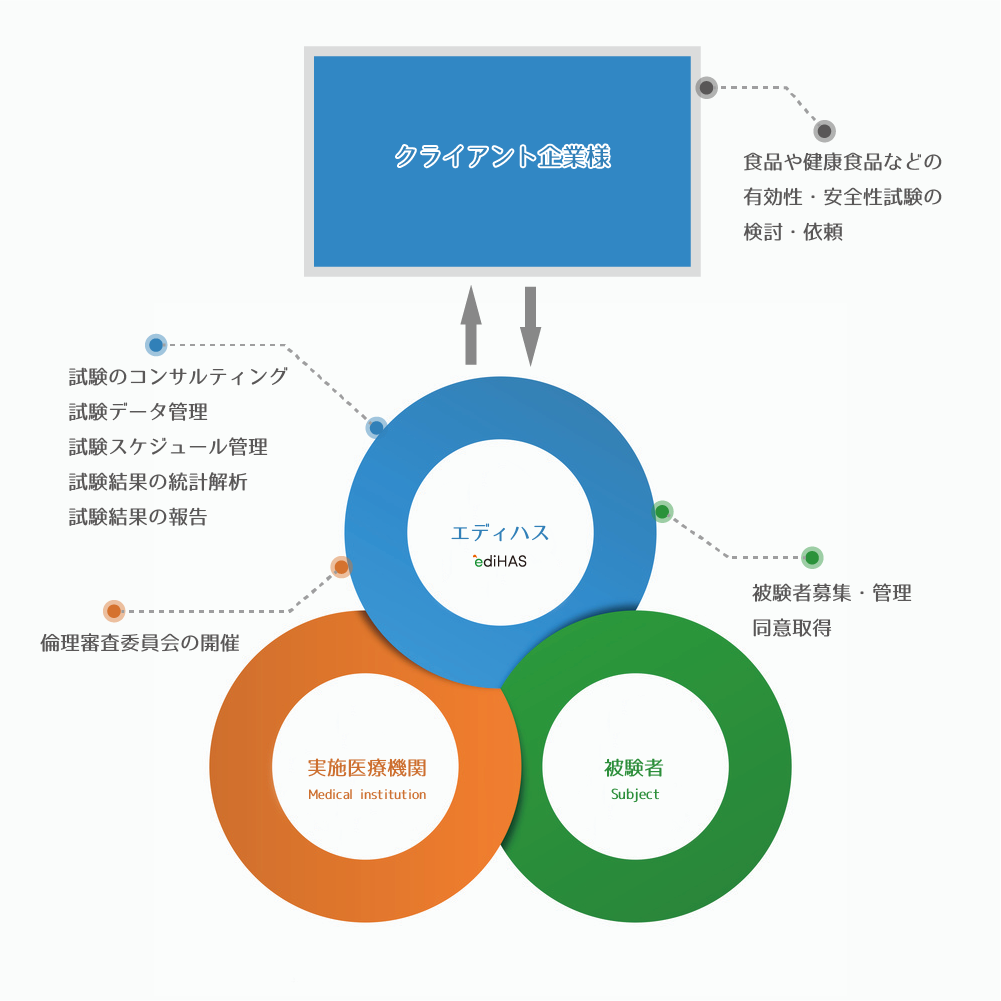 In conducting trials, we also prepare procedure manuals that cover the guidance of the integrated guidelines, so that our clients can feel confident in requesting trials. In addition to subject recruitment, which has always been our specialty, we provide total support for trials, starting with trial preparation, including trial designs and proposals for protocols, selection of medical institutions, preparation of case report forms and informed consent forms, and application to ethics review committees, and after the start of a trial, we assist with subject recruitment, consent acquisition, subject management, trial data management, statistical analysis, and final report.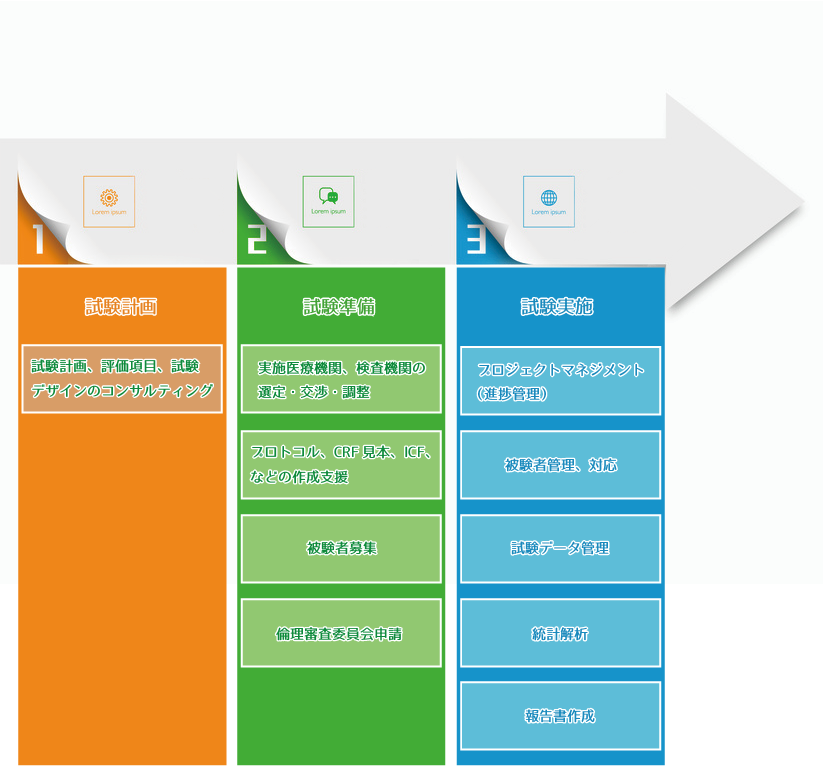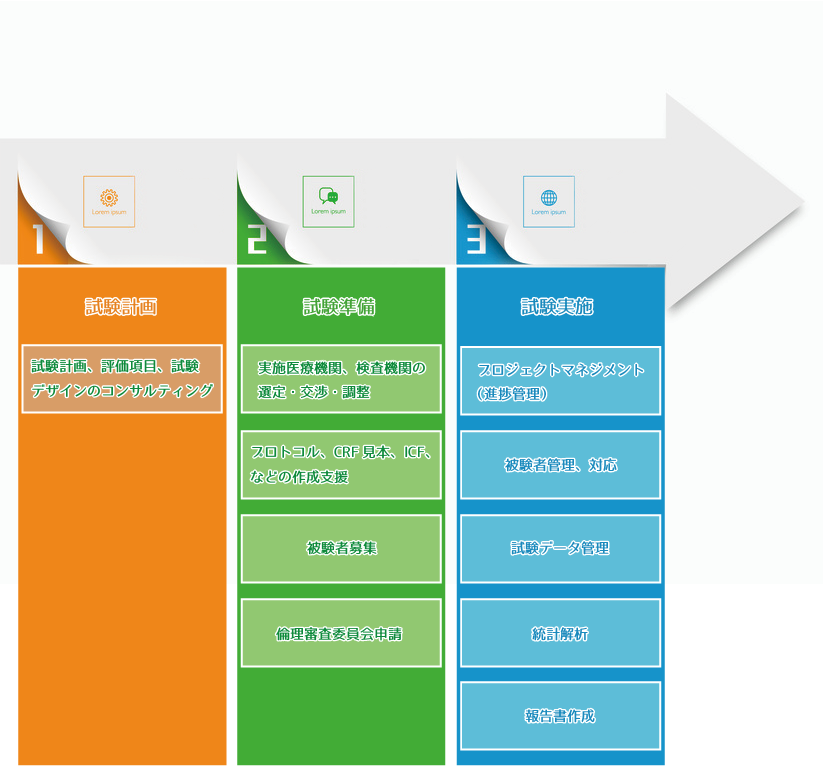 Web Diary Questionnaire
In conducting food testing, it is a challenge to know to what extent subjects will comply with regulations. Is there a good way to ensure its quality? According to the customer's opinion, the Web Diary Questionnaire is created.
This system allows us to check in real time whether or not each participant has responded to the questionnaire. In case of no response, the call center will confirm the missing information the next day, thus avoiding such problems as "forgot to fill in the questionnaire" or "don't remember what they ate".  
Furthermore, the fact that subjects were contacted if they forgot to fill out the questionnaire even for a day like this motivated them, and the issue of "forgetting to take" was also cleared at the same time. Our research showed a 5-8% improvement in food intake rate with and without the web diary questionnaire, regardless of whether or not the call center sent out the questionnaire during the period. How do we reduce dropouts? We provide a clear answer to that challenge as well. 
【Business Partner】
User Life Science K.K.
---
Food CRO in Iizuka, Fukuoka.  
Activities:
Clinical trials

Conducting evaluations on the effects of health foods and cosmetics and fragrance. 

 

Support for notification of functional foods

Conducting literature review (preliminary study, research review, safety study, mechanism of action, etc.). 

 

Consulting and others

Advertising support, industry-academia collaboration, writing, translation, procedures creation, etc., for development and sales promotion of health foods, etc. 

 

 Manufacturing and sales

Commercialization of supplements.  

  
Food CRO for human trials [User Life]
---
We will consult with you to determine the cost, location, and medical institution to conduct the study, depending on the evaluation items, so please feel free to contact us from here.